Revitalizing a Classic: UltraDMM Embarks on a Digital Transformation Journey
UltraDMM Case Study: Table of Contents
2.1 Initial Creation by Tom Heiber
2.2 Key Features

3.1 Popularity and User Base
3.2 Support and Compatibility with Various Digital Multimeters

4.1 Assembling the Team
4.2 Innovations and New Features

5.1 Reverse Engineering the Hardware
5.2 Moving to a Web-Based Platform
5.3 .Net Core and Docker Implementation

6.1 Custom Workspaces and Triggers
6.2 Remote Data Reading and Security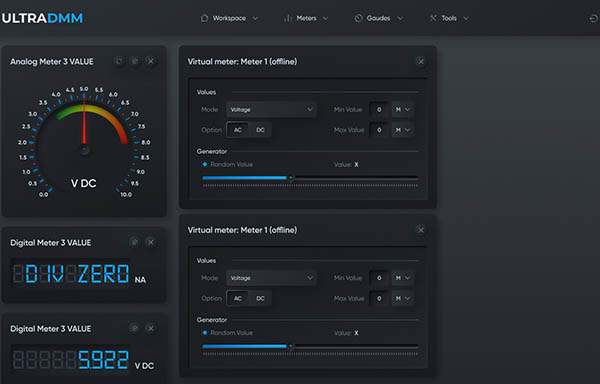 1. Introduction
In a world of swiftly advancing technology, having the right tools to interpret and manage data efficiently is not just a necessity but a pivotal point for business success. The tools that facilitate precise data collection and analysis are indispensable in a variety of sectors, including manufacturing, engineering, and R&D environments. It's here that UltraDMM carved its unique niche, by offering a seamlessly integrated solution to interface with digital multimeters via USB and serial ports.
Founded by Tom Heiber, the brain behind Heitech Software Solutions, UltraDMM initiated its journey in 2012 as a windows desktop application. This brainchild of Heiber was crafted meticulously using C# .NET with Windows Forms, and quickly garnered attention for its ingenuity and efficiency.
In this case study, we journey through the evolutionary path of UltraDMM — from a promising start-up project to its mature, web-based avatar that stands today as a testament to HeitechSoft's dedication to quality and innovation. We delve deep into the sophisticated technical landscape that underpins UltraDMM, shedding light on the reverse engineering and analytical prowess that has propelled HeitechSoft into the spotlight.
Whether you are an entrepreneur venturing into the technology domain or a business giant looking to enhance your hardware-software solutions, this case study underscores HeitechSoft's capability to not just meet but exceed client expectations with expert solutions.
Stay tuned as we unravel the story of a project that stands as a beacon of quality, showcasing HeitechSoft's expertise in developing software/hardware interfaces, and offering innovative solutions through reverse engineering and analytics.
Join us as we journey through UltraDMM's path of innovation, a path dotted with technological advancements, and guided by a relentless pursuit of excellence.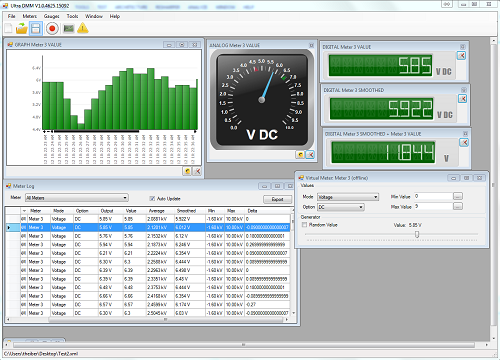 2. The Birth of UltraDMM
2.1 Initial Creation by Tom Heiber
In 2012, Tom Heiber embarked on a mission to revolutionize data interfacing with digital multimeters, giving birth to UltraDMM. Leveraging C# .NET and Windows Forms, the Windows desktop application was able to efficiently capture and analyze data streams from digital multimeters via USB and serial ports.
2.2 Key Features
From the outset, UltraDMM showcased powerful analysis capabilities, rendering data through intuitive gauge formats and custom graphs. The application also introduced a custom trigger system, enabling users to set up alerts based on specific data conditions, a feature that enhanced responsiveness to critical data insights significantly.
Additionally, UltraDMM facilitated personalized user experiences through custom workspaces, allowing the creation, saving, and loading of user-defined gauge and graph layouts and triggers. Compatibility with multimeters from top brands like Uni-Trend and Digitek was a testament to its versatility even in its early stage.
As we delve deeper in the subsequent sections, we explore how UltraDMM navigated through its early years and the transformative journey undertaken in 2019 to modernize and enhance its functionalities further. Stay tuned for an insightful walkthrough of UltraDMM's evolutionary path.
3. UltraDMM's Journey: From 2012 to 2014
3.1 Popularity and User Base
Despite not being updated since 2014, UltraDMM managed to maintain a steady user base. It garnered a mild yet consistent online popularity, becoming a tool that individuals and companies alike came to rely on for their digital multimeter interfacing needs. This period of sustained user interest showcased the application's foundational strength and the vision behind its creation.
3.2 Support and Compatibility with Various Digital Multimeters
A crucial aspect of UltraDMM's enduring appeal was its compatibility with a wide array of digital multimeters. This compatibility was achieved through rigorous reverse engineering processes, which involved obtaining control chip models and sourcing datasheets to understand the data transmission via the communication ports.
During this phase, HeitechSoft showcased its knack for reverse engineering, a skill pivotal in ensuring UltraDMM could communicate effectively with multimeters from various manufacturers.
As we progress through UltraDMM's story, we will explore the remarkable transformation it underwent in 2019, when a dedicated team breathed new life into this potent software, enhancing its features and broadening its capabilities manifold. Stay tuned to understand the journey of revival and the technological upgrade UltraDMM embraced.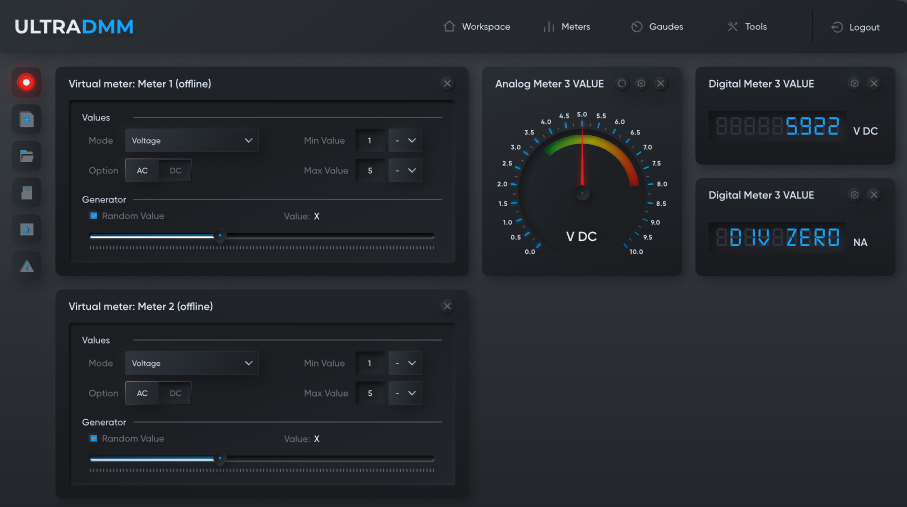 4. Reviving and Modernizing UltraDMM: 2019
4.1 Assembling the Team
In 2019, the journey to resurrect and modernize UltraDMM began. Unlike its initial development phase, a team of experts was assembled this time to undertake this mammoth task. The team comprised of talented graphic designers, web developers, and seasoned software engineers, all working harmoniously to give UltraDMM a modern touch.
4.2 Innovations and New Features
The revitalization process saw UltraDMM transitioning from a Windows desktop application to a web-based platform. The backend code was ported to .Net Core, enabling it to run as a Docker application, thus making it more flexible and scalable.
A significant breakthrough came with the introduction of a feature allowing data reading from a multimeter over the internet — a secure and low-latency solution that pushed UltraDMM to new heights. This was complemented by a fresh and modern UX/UI, meticulously crafted to provide users with a seamless and enhanced experience.
As we venture into the next section, we will delve deeper into the technical intricacies and the state-of-the-art features that make UltraDMM a leader in its category today. Stay with us as we unfold the layers of technological prowess that power UltraDMM.
5. The Technical Breakdown
5.1 Reverse Engineering the Hardware
A cornerstone in UltraDMM's development journey was the sophisticated process of reverse engineering involved in extending its compatibility range. By sourcing datasheets of control chip models, the team managed to discern the communication nuances of different multimeters, a move that broadened UltraDMM's utility spectrum significantly.
5.2 Moving to a Web-Based Platform
The transition to a web-based platform marked a significant milestone in UltraDMM's evolution. The modern iteration involved porting the back-end code to .Net Core, allowing it to operate as a Docker application, ensuring both adaptability and streamlined deployment in various environments.
5.3 .Net Core and Docker Implementation
This move not only modernized UltraDMM but also introduced a level of flexibility and scalability that was not present in its earlier versions. The incorporation of .Net Core and Docker ensured a system ready for the modern web, with enhanced security and performance parameters, catering to the contemporary needs of the users.
As we approach the final sections of this case study, we will highlight the enriched feature set of the new UltraDMM, demonstrating the elevated user experience and the innovative functionalities that stand testimony to HeitechSoft's expertise and commitment to excellence. Stay tuned as we unveil the state-of-the-art features that distinguish UltraDMM in the competitive market.
6. UltraDMM Today: Features and Functionalities
6.1 Slick and Modern UX/UI
Today, UltraDMM stands as a prime example of superior design meets functionality. The collaboration with a highly skilled graphic designer bore fruit, delivering a UX/UI that is not only visually appealing but also ensures a user-friendly and intuitive interface.
6.2 Custom Workspaces and Triggers
The modern UltraDMM allows users to create custom workspaces, a feature that has been enhanced to offer more depth and flexibility. Users can now save and load tailored gauge and graph layouts, alongside setting up triggers for specific conditions, streamlining the workflow and offering a highly personalized user experience.
6.3 Secure and Low-Latency Remote Data Reading
The newly incorporated feature allowing data reading from a multimeter over the internet is a highlight of UltraDMM's present capabilities. The feature ensures secure and low-latency solutions, positioning UltraDMM as a tool ready for remote monitoring tasks with the utmost reliability.
In the next section, we take a glimpse into the future, articulating the roadmap ahead for UltraDMM. Stay with us to explore the exciting future prospects and the commitments that HeitechSoft holds for this revolutionary tool.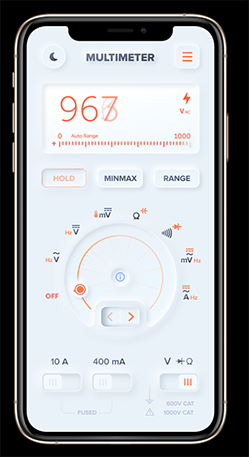 7. Looking Ahead: The Future of UltraDMM
7.1 Continued Innovation
As we stand on the cusp of new technological advancements, UltraDMM remains committed to innovation. The roadmap ahead is designed with a focus on integrating cutting-edge technologies to continue meeting the evolving demands of the industry.
7.2 Community Engagement and Feedback
HeitechSoft envisions a greater role for the user community in shaping the future of UltraDMM. Plans are underway to foster a collaborative environment where feedback from users is actively sought to introduce improvements and new features that resonate with the user base.
7.3 Expansion into New Markets
With a revamped and more potent UltraDMM, HeitechSoft aims to expand its horizons by entering new markets. Leveraging its rich feature set and the trust it has garnered over the years, the goal is to reach a wider audience and establish UltraDMM as a market leader in digital multimeter interfacing solutions.
As we wrap up this case study, we invite you to experience the excellence of UltraDMM firsthand. Stay tuned for the concluding notes, where we sum up why UltraDMM, backed by the expertise of HeitechSoft, is your go-to solution for digital multimeter interfacing needs.
8. Conclusion: UltraDMM by HeitechSoft – Your Trusted Partner
8.1 A Journey of Dedication and Innovation
From its inception in 2012 as a solo project by the visionary Tom Heiber to its modernized version developed by a team of experts, UltraDMM stands testament to HeitechSoft's commitment to excellence and innovation. The application, over the years, has not only evolved but set a benchmark in the digital multimeter interfacing solutions space, showcasing an unmatched depth of features and functionalities.
8.2 Meeting Modern Needs with Reliability
UltraDMM today stands as a beacon of reliability and modernity, equipped with a sleek design and functionalities that cater to contemporary needs. The secure and low-latency remote data reading feature, paired with a user-friendly interface, ensure a product that meets the high standards of today's tech-savvy users.
8.3 Why Choose UltraDMM
As an entrepreneur looking to invest in a dependable software/hardware solution, UltraDMM brings to the table not just a product, but a legacy of trust, reliability, and innovation. Entrusting your project to HeitechSoft means choosing a partner that values excellence and is dedicated to delivering solutions that not only meet but exceed client expectations.
We thank you for walking through UltraDMM's journey with us. As you ponder over your choices, remember that choosing UltraDMM and HeitechSoft is choosing a legacy of innovation, a beacon of reliability, and a partner committed to steering you towards success. Feel free to reach out to explore how we can be of service to you in your entrepreneurial journey.