Heitechsoft Partners With NWI to Enable the Next Generation of Racing Analytics
Heitechsoft is announcing an exciting new partnership with NeuronicWorks Inc. (NWI), a leading product design and engineering firm. Heitechsoft will develop the software for Project Cretos, its innovative digital racing analytics solution. Project Cretos will be powered by Heitechsoft's 5G-ready, real-time Iris IoT platform, while NWI will design and manufacture the hardware.
The Project Cretos platform will be the first of its kind, offering real-time racing analytics on a community-based social platform designed for sharing stats, data, and metrics. Project Cretos aims to redefine performance metrics in the racing and motorsport space, changing the way drivers interact with and access performance metrics.
"We envision Project Cretos as an AI-based crew chief that helps drivers improve performance and identify potential issues using real-time data and analytics. Our plan is to create a world-class racing analytics platform that's community-focused," said Tom Heiber, CEO of Heitechsoft.
Project Cretos brings a new approach to the market, taking a software-driven approach versus the traditional hardware-based devices currently in use. Hardware-based devices require tedious and time-consuming manual uploads of run logs on websites in addition to the significant physical space required for installation. Project Cretos will solve this issue by automatically updating run logs and vehicle telemetry in real time using hardware devices that are smaller and more efficient than other options on the market.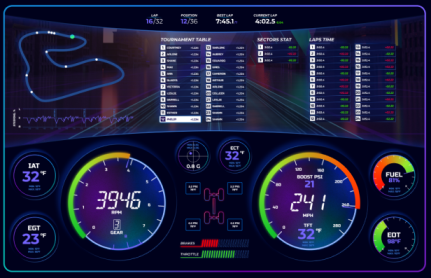 Heitechsoft's Project Cretos platform will also feature deep real-time analytics and insights to help drivers improve lap times, car performance, and skills. This includes a tournament table, sectors stats, laps times, number of laps, position, best lap time, current lap times as well as gauge, sensor, brake, and throttle information. The information is delivered to drivers on a clean and visually attractive digital interface that is always accessible both in the car and through an application for post-race analysis.
Equipped with this information, drivers will be able to easily share this information with a community of car enthusiasts on a social platform. The Project Cretos platform will be built to foster a community of like-minded individuals who can follow analytics in real-time to always stay connected with the latest action — whether they are taking part in a tournament race or just viewing from the sidelines.
Heitechsoft is positioned for success based on expected technological advancements. Heitechsoft's Project Cretos platform was developed by the company's founder who is a racing enthusiast himself. The company strongly believes that as 5G takes off and latency is reduced, the possibilities for Project Cretos will be endless.
About Heitechsoft:

Heitechsoft is a full-stack software development company that specializes in application development, IoT infrastructure, and complex integrations. Heitechsoft offers custom software development, acceleration programs for startups, IoT data analytics, RPA, digital accessibility and compliance, hybrid work migration, digital readiness assessments, and proof of concept testing. Companies work with Heitechsoft to augment existing teams, fill in technical gaps, and work with proven experts in the software development field.